August 22, 2017   

Ron had his second follow-up appointment with Dr. Lee.  He walked down from his house to the office on Pellis Road.  That was a move forward!  Dr. Lee explained that the CT Scan showed improvement but still not completely healed, but was pleased with the fact that the break was continuing to heal.  He encouraged Ron to put more stress on the leg – a little more walking and some exercise.  The bones repair themselves – a bone dissolves and replaces itself over time; the bone he had maybe 7 months ago was not the same bone he has now. Exercise – 'stress' – helps speed that repair process.   He cleared Ron to go back to work as long as it was in small doses at a time – probably not more than 4 hours in one stretch.  Ron will have one more CT Scan and a 6-week follow-up visit with the hopes that he can be released then.  I will post those results then, and probably after that visit close this sight until – or if??? – he gets back to the trail.



July 25, 2017 

Today was Ron's follow-up appointment with Dr. Lee.  The CT Scan showed that the bone was healing, but not yet healed.  The doctor suggested that Ron slowly start to put weight on his leg, and take small attempts at walking without the crutches.  The pain – as he has been off of it for 9 weeks! – is basically non-existent, but once he starts putting weight on it, he'll have to see what happens.  He has several pages of suggested exercises and did the first one this evening.  There is still swelling in his knee and foot/ankle areas, which restricts his shoe wearing on that foot.  No therapy suggested at this point, and he's not released to return to work until after his August appointment.  But it seems things are finally going in the right direction!



July 16, 2017    Update on Ron. 

This past weekend the gas bubble in his eye finally went away and stayed away.  Although he does wear his sunglasses often, his vision has returned to what it was pre-surgery, and he's very pleased with that!  He took a trial spin around the block in his Chevy and all was well.  His 6-month PCP checkup is Monday morning at 8:30am; his follow up for his knee is July 25th at 8:00am, and his eye appointment is in August. In the meantime, he's been feeling a strain in his shoulder from an old injury of some sort, and his elbow has been giving him some trouble, causing his fingers to tingle when he grips the crutches.  He'll be glad for his appointments to get some answers in those regards!



This evening his Sears 'family' gathered at Joe and Judy's home, a fun get-together just to catch up.  Ron has been away from Sears since March and everyone enjoyed being together.  Joe and Judy's home is beautiful, and was the perfect setting to host us all for a cookout.  Ron and I joined Mary Lou, Mark, and Norma and Jim to chat and laugh and of course eat!  I know it did Ron a world of good to get out of the house and to be with these people for a few fun hours.  Thanks for the evening and for including us!  We'll keep you posted on the progress.
July 8, 2017    It's been a very busy week,

and I haven't taken the time to catch you up.  So here goes.  Last Thursday Ron had his follow up at Dr Lee's for his leg.  They took an x-ray, which appeared to show a healing line.  As in the first x-ray, it's inconclusive, so next week he is scheduled for a CT Scan.  In the meantime, still has to stay off his feet as much as possible and use the crutches.  No weight on the left leg at all.  His next appointment there is on July 25th, but the doctor did say that it may still take a little more time after that before he can be walking without the crutches. 
Then on Friday, Uncle Bud took him for his eye appointment.  That doctor is pleased with the results and feels like it is progressing as it should.  Still no driving at all until the gas bubble behind the retina is totally dissolved.  As of this evening, it was still visible.  So he is still very restricted in his activities, and he feels the pain of that in more ways than one!  Everyone is really pitching in to keep him occupied, bringing food, taking care of the lawn, running errands, stopping by – blessings abound!  Thanks to everyone for such great support.  Will keep you updated as I can….



July 5, 2027 Yesterday, just to get Ron outside for a change of scenery, we went for a drive around some back roads.  Didn't see any deer but did see two huge flocks of geese.  Before I left his place I snapped a few photos just so you could get an idea of what he's dealing with.  His eye 'patch' is taped on to protect his eye when he's sleeping.  So tomorrow is a follow up for the leg; Friday for the eye.  Will update when we get the news!
July 2nd, 2017  Update on Ron :

Thursday morning Ron has his surgery; Friday morning Uncle Bud took Ron to have his eye patch removed.  The doctor was very pleased with the progress.  His instructions through tomorrow are to keep face down for one hour every other hour, and to wear sunglasses.  No driving or lifting.  Ron's son Matt has been staying the night with him since Thursday, and that is a blessing as it's something I could not do.  Other than being crazy-bored, Ron seems to be handling this fairly well.  His neighbors Gerry and Ray are helping feed him, and I have dropped off food a few times, so that helps as well.  I'll update things after his Thursday morning appointment, and thanks for being there for him!



June 28th, 2017   

It's been a while since there was anything new to post.  Ron has been shuffling around trying to keep occupied, which isn't easy.  His ankle still swells every day, and his movement is still restricted.  His 6 week appointment is next Thursday and he's hoping for good news at that time.  However, there is a new development.  His eye was bothering him so he got an appointment with his eye doctor.  Turns out he has another (this will make the 3rd time!) detached retina.  So he's off to Pittsburgh in the morning for a 7:30am surgery. 
Again, his gracious Aunt and Uncle are 'on the road again' and driving him down.  His son plans to stay with him a few days to help out.  As you can imagine, he's been in better spirits, although he's doing much better than I would if it were me.  Please keep him in your prayers and thoughts as he goes through yet another set of restrictions.  One thing he knows is that he can't life anything heavy.  Well, he can't lift anything ANYWAY because he needs both hands for the crutches!  We are all praying for swift and easy recovery.  Thanks for being there for him….



June 17th, 2017  Haven't posted in a while so I thought I'd update.  Ron is staying off his feet as much as possible, propping his left leg up on a pillow.  His left ankle still gets swollen every day, but a phone call to Dr. Lee's office said it was nothing to be concerned about.  So he's staying quiet, reading, and doing as much of nothing as he can.  His appointment is July 6th.  Thanks for sticking with us!
June 9, 2017  Although this post is a few days off, sending a very happy birthday to Ron as he waits out his 'sentence' of healing off the trail.  Although he's itching to be doing more, days like today – when he did too much and was on the go all day – prove that he should be taking it slower.  But we ended the day today with his leg propped up on the ottoman, a flaming carrot cake, and a happy celebration.  May next year find you on the trail!

June 6, 2017 This is a picture of Fontana Dam that I had almost forgotten about. I took the picture while hiking toward the entrance to the Smoky Mountains National Park.  (From the happy 'grounded' wanderer!)

June 5, 2017   (From Ron:)  I met this deer while hiking in the Smoky Mountains. I came around a corner and interrupted her as she was having lunch. We stared at one another for a few minutes, and though I tried talking to her, she didn't have anything to say, and continued dining. She did, however, agree to pose for a couple of pictures. Afterward, she turned around and walked up the trail. Since I was going that way, I followed. We walked along for about a hundred yards before she left the trail and disappeared into the woods, probably to finish her lunch in peace.
She was the only big game animal I saw while on the trail, so I'm glad that I was able to get a couple of photos.  
June 1, 2017  (From Ron:)

If you've been following this blog, you've seen the picture of me standing next to this sign. If you haven't seen the picture, scroll down to the bottom of the page.
I took this picture of Marge on a rainy fall Saturday last year during a day trip to Harper's Ferry. I wanted to go to the AT headquarters to get some information for my upcoming hike, and knowing Marge's fascination with history, thought that she would enjoy seeing the old buildings in town.
We spent the day touring the Old Town section of Harper's, hiking along the AT, and talking to the people at the AT Conservancy — staff, visitors, and hikers.
This was a significant day, because it was the beginning of Marge's involvement in what she had jokingly(?) referred to as my "wilderness self-punishment". From then on, she has been an invaluable part of my adventure. She has helped me shop for gear and food, provided advice and encouragement, and helped me pack for the trip. While I was gone, she looked after my house, watered my indoor plants, took care of my mail, and helped with any and all issues that I couldn't take care of from the trail.
You would not be reading this post right now if it wasn't for her. My older son and I had set up a blog, but when I got out on the trail I was having trouble posting to it from my phone. Marge stepped in and offered me this space on her web page, and has spent many hours transferring my emails, text messages, phone calls, and photos to it so that everyone could keep track of my progress.
She hasn't stopped helping me. Since I've been back, she's accompanied me on doctor visits, helped me shop for groceries, provided meals, taken care of my lawn, handled phone calls and emails, driven me around, and much, much more, all while managing and maintaining her own house and life. And through it all, she has never once complained. She's amazing.
Readers have been keeping tabs on my adventure, but it's also Marge's adventure, because I couldn't have gotten as far as I did without her patience, encouragement, advice, and help. So I wanted to take a few minutes here to let her know how much I appreciate all that she's done, and to give all of you some idea of how special she is.
Thanks, Marge, for being so wonderful.
(PS – It's an author's/editor's right to interject thoughts and improvements!  I dislike that photo so am adding one of my own.  Ron's right:  It has been an adventure beyond anything I expected.  I am glad to be helpful and supportive in any way I can.  Now to get him back on the trail again – maybe, next March???)
May 29, 2017   

After a weekend of trying to get used to using crutches, doing things much slower than 'slow and steady', and not doing things at all, Ron was ready to get out of the house for a while for something more relaxing than groceries or errands.  This Memorial Day evening I drove up to Linn Run, where Ron was hoping to see some deer.  The best he got was a turkey, several inch worms, and a lap-counting ant.
There was no way we could get Ron close enough to the water to even get his toes wet, so he contented himself by sitting on the bench and watching me wade around.  It was super cold but I enjoyed it, anyway.  We snacked on peanut butter pretzels and honey nut peanuts while watching a gang of young kids jump around on the rocks, walk on a fallen log across the creek, and even fish.  We drove up to the ranger station and sat on the deck for a while, listening to the calming sounds of the water tumbling over the rocks.  So peaceful and calming! (Sun on the water.)
There were several inch worms measuring the deck railing, but the one little worm actually had us laughing!  There were square caps on the deck posts, and the one little guy kept going around the cap in laps, while the ant just sat there and watched it go.  We determined that he was in training for a marathon!  The little guy in the picture measured the entire length of railing in front of us! It's been years since I even THOUGHT of inch worms so it was fun to watch.  We headed home about 8pm to a sunset of bright rays streaming through the clouds, making the mountains glow like the old coke ovens from years back.  It was a good weekend and we were happy to close it with a little relaxation! 

May 25, 2017

What a surprise we got this morning!  And it wasn't a happy one! The look on the doctor's face this morning when he pulled up the MRI photos and explained them was one of wonder and amazement.  When Dr. Lee ordered the MRI, I don't think any of us expected this!  Ron has a broken tibia. The pain materialized in the knee, but that may have been from the fracture and the swelling.
You can see the fracture line near the bottom of the photos on the left.  This is one of those cases that surprised even the doctor, which he admitted.  Ron thinks that when he caught his pant leg on a root and went down on his knee, that caused the break.  But it didn't hurt until days later. 
But regardless, the prognosis is that Ron must not put ANY weight on his left leg for 8 to 10 weeks.  He was fitted with a stretch brace and given crutches, along with strict orders to STAY OFF OF IT!  He can drive if he can get in and out of the car without stepping down on his left leg.  This will mean a lot of changes, not only to the Shafer household but to the Burke household as well.  He can't carry groceries, lug laundry baskets up and down to the basement, cut his grass — well, there's lots he will have to steer clear of.  He has wonderful neighbors and friends who will pitch in, but he dislikes asking for or accepting help, so it won't be easy. 
Just keep him in your prayers, offer up lots of support, and keep in touch with him if you can – he won't have a whole lot to do over the next two months! He is obviously disappointed about not getting back to the AT this summer, but there is always next summer, and possibly a few day hikes in the fall once this is healed.  Dr. Lee said once the fracture is healed there will be no restrictions.  Thanks for being there for him – he appreciates that more than you know! 



May 24, 2017  Just a short post.  Ron's follow-up appointment is in the morning. We may know more then or he may need some time to process the results and make a decision about returning to the trail.  In the meantime, here is a photo he took in North Carolina.  Caption is: "I took this picture somewhere in North Carolina.  I liked the variety of colors." 
I will post an update as soon as I have something to share!  

May 22, 2017  The MRI process this morning was not a difficult test, but Ron discovered that it's not so easy to be entirely still for 25 minutes!  He managed to get through it, though – then went home, took a nap, ate breakfast, and sent me this picture to post.  He's still longing for the trail and hoping for good news and steady progress, one day at a time. Here's the caption and the quote:  "I saw this tree while hiking through the Smoky Mountains in North Carolina.  It's so unusual that it will definitely be used as part of the setting for one of my stories someday." 
Personally, I think it could come alive and throw apples, like in the Wizard of Oz!

May 19, 2017  When I spoke with Ron last night, he was mulling over different options about his return to the AT.  On the one hand, he's ready to head out the minute the doctor gives him the okay.  On the other hand, he's considering local hikes to give his knee a work-out before he plants himself so far away from home and comfort.  His MRI is Monday, with a follow-up on Thursday with the doctor.  So we will keep you posted!

May 17, 2017 – off the trail update: 
This morning Ron and I headed to Frick Hospital in Mt. Pleasant for his xrays and the appointment with the sports medicine specialist.  The Doctor said the xrays were clear. Possibly a bit of arthritis. It would NOT, however, show muscle or ligament tears or issues. He gave Ron the option of having an MRI, which he chose to do. Scheduled for Monday 22nd at 6:15am.  Basically didn't find anything major wrong. Just be careful and not be so stiff. The dr couldn't get him to relax his muscles at all! I was laughing. Nothing new there. I told Aunt Darlene he was like a Gumby. Just put him in position and there you go.
 So if he feels like hiking, he can hike. He also has the option of cortisone shots if he chooses. Which he might, if the MRI doesn't show anything. Even if something shows, the option of surgery is just that: Option. Not guaranteed it would fix anything. No restrictions on activities, except leg lunges. Because it will just irritate it.
 Nothing he does will make it worse. It would just hurt worse.
 SO, I guess he got his 'miracle'! We'll see next Thursday. He's ready to go back. He will try to increase his mobility and re-evaluate on the 25th when he has the results of the MRI.  If something is torn or separated that is a different story.  We shall see. Thanks for your continued prayers and support!

 May 14, 2017    Here are two photos from the trail: Quotes from Ron.  "The path to success is often a rocky one."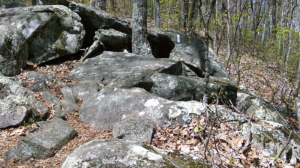 And "Some days I feel like I'm walking around in a flog.  Where's my coffee?"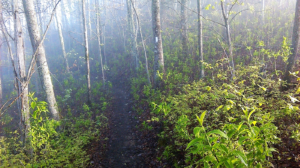 May 10, 2017

Hi, everyone — Since I'm going to be off the trail for a while, I thought I'd take some time to share some photos that I hadn't posted before.
Here's a picture of me with Miss Janet, one of the ATs most well-known trail angels. Miss Janet spends much of each hiking season providing needy hikers with food, transportation, and any other help they may need during their  journey.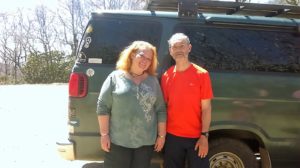 This photo was taken at Albert Mountain, North Carolina in late March, the third time we had met along the trail.  Ron
May 9, 2017 Any of you who are

familiar with the directional markings used on the Appalachian Trail knows that they are white 'paint swatches' that indicate the trail. Ron sent a photo this morning that he had taken earlier in his hike.  Looks like someone wanted to wish his fellow hikers 'happy trails'.  Nice to see they keep their sense of humor and share it with others!



May 8, 2017  

Ron's 

doctor deferred diagnosis and treatment to a sports medicine specialist.  The soonest appointment he can get is next Wednesday at Frick Hospital.  He's still doing the exercises that the doctor in TN gave him, and just trying to be patient.  He SO wants to be on the trail – even just walking somewhere! – as walking has been a steady companion for so many years.  Immobility is so difficult!  He IS able to get around, and driving was no problem.  But not quite what he's accustomed to.  We never know the reason God has for what happens in our lives, and this is bigger than just a personal goal or a wish list.  Let's see where we go from here.  God is good, all the time

!

May 7, 2017  Early yesterday morning Auntie D and Uncle Bud made the long drive to Gatlinburg to gather up Ron and bring him back to PA for some doctors appointments.  He was limping quite severely – hobbling, actually! – but in good spirits and just moving a little slower.  I was 'tipped off' that they were getting close, and I was waiting at the house when they got there.  I stuck around long enough to help him get organized and unpack his backpack and made sure he could manage everything on his own.  He was doing very well when I left!  From this point on I will only post when I have updates on his condition, or when he sends photos of these first 3 states!  Ron REALLY appreciates your continued support, prayers, and well-wishes, so don't stop now.  He's still determined to get back on the trail and get as far as he can this year!

May 6, 2017 First thing Saturday morning, Ron was outside his room and stopped to talk to another motel guest, who was walking her beagle (No, not Snoopy!).  The women mentioned that about 7am her husband had seen a bear, who apparently had wandered down the hill and walked behind the motel, about 4 doors down from Ron's room!  Ron was headed to the lobby for coffee and inquired of the desk clerk if he had heard about the bear sighting.  "Yes, I did.  About 9pm last night."  After a brief discussion it was discovered that there were two separate sightings at the motel, and Ron missed both of them!  Well, there's always next time!

May 5, 2017  Earlier the trail was closed because of snow.  No hiking for our happy wanderer, still holing up at Motel 6, resting his knee.  The photo is of a burnt out building behind main street in Gatlinburg.  It's hard to think about how close last year's fires were to the town.         It's late – I'm outta here!  🙂  
May 4, 2017

As promised, here is the REST of the story.  Early in the week Ron felt a little pull on his left knee as he slipped on a rock.  It didn't improve, so when he got to Newfound Gap and the connection to Gatlinburg, he opted for a few days off the trail.  As mentioned yesterday, a very nice hiker couple gave him a ride into town, directly to the front entrance of Motel 6 (they left the light on for him….).  He struggled yesterday with walking but today was much better – although not enough to hit the trail again.  BUT— all things work together for a reason.  They had very high winds down there, with power outages and limbs down and then heavy rains.

This is a photo of the motel parking lot.

Not very far into the day, as Ron was sitting out in the lobby having a coffee talking to another hiker, LOTS of hikers started filing in.  The winds had gotten so bad that the rangers had pulled all the hikers off the AT and sent them into town, closing the trail until this blows over (no pun intended.  It just happened). Just as the desk clerk started to check everyone in, the power went out and they couldn't access any files or folders!  One of the hikers already had a room, so they went there and hung out until the power came back on.  Thankfully our hiker had come off the trail the previous day, had his own little snug-as-a-bug room, and can wait out both the knee issue and the winds.  Apparently there were trees toppling and branches coming down, with wind gusts 25-55 mph, and upwards to 80 mph, and it was not safe on the mountain.  There is to be no improvement in the weather for a day or two, hopefully giving Ron a chance to heal and rest before heading back to the Smokies! 



May 3, 2017 

Lots to catch up on tonight!  I got the first of three text messages with photos attached a little after 7pm.  The last text message said he'd call me later.  I was at a work function, so I buzzed home and cut the grass in high speed so I would be in the house to get the call.
The first photo was of Fontana Dam when he entered the Park.  Message:  "The spillway at Fontana Dam.  The sidewalk is part of the AT, just like in the movie."  The day looks sunny and bright!  Next photo:  "Me at one of the shelters in the Smokies.  Still haven't seen a bear."  (Somehow I don't feel real bad about that!!) Third photo:  "Made it to the top of Clingman's Dome yesterday.  The highest mountain in the Smokies, and possibly on the AT.  Even climbed this observation tower. Of course, I didn't go near the railing…." 
The views were spectacular, and he took pictures with Aunt Darlene's camera, so those he couldn't share.  One of the things he thought was so amazing was the number of people who were from PA, specifically Western PA.  He met a couple who were fellow Pitt alums (his alum, not mine). There was even a woman who grew up in Latrobe! One man from Altoona was able to catch him up on the Pens and the Pirates, something even I could not have done adequately.
Another very nice couple found out he was going into town and offered him a ride.  He met them about an hour or so later at the designated shelter and was chauffeured right to his destination. He has met with nothing but consideration, friendly hikers, and good people. 
If you are keeping track, here is where he has been since Saturday:  April 29th:  Mollies Ridge Shelter, mile marker 177.0  April 30th:  Derrick Knob Shelter, mile marker 189.0  May 1st: Double Spring Gap Shelter mile marker 196.4  May 2nd:  Mt. Collins Shelter  mile marker 202.5  And today, May 3rd:  Newfound Gap mile marker 206.8. I plan to talk to him again tomorrow evening and we will get 'the rest of the story.'



May 2, 2017         Got a text message from Ron this morning at 8:10am.  He met two new 'friends' on his first day in the Smokies.  One was a deer, whose photo he took with his Aunt Darlene's camera and couldn't include it in the text.  The other was of this toad sitting along the path. (NO, that's not a snake.  It's a stick…)  I was really longing for details and information, especially after coming through a lovely sounding place like Fontana Dam!  Those details will have to wait until he has better phone reception.  Fontana Dam is the official entrance for northbound hikers into the Smokey Mountain National Park.  The Eight-Day countdown has begun!
May 1, 2017  So hard to believe it's May already!  Where is the year going? No contact with Ron today. I have learned that thru-hikers – and even short hikers! – are great people who look after each other. It really helps knowing there are 'trail angels' out there, every day. There's no doubt he'll have wonderful adventures to share when he gets home this fall.  The good thing is that last evening I was able to get over to his house, open the windows, and do some much-needed yard work where the mowers couldn't reach.  A HUGE thank you to Betsy for keeping up with mowing the grass, and to Ray and Gerry for gathering the mail and keeping a close, watchful eye on the place.  And to all of you who offer support by following his progress, praying, and sharing with me and with each other.  THANK YOU!

April 30th, 2017  Mid-day break in my Sunday routine to post from an email I received from Kevin, a man who hiked with Ron this past week.  Kevin says, "

I met up with Ron – I was doing a 3 day/4 night hike with my 22 year old daughter from the NOC to Fontana Dam.  We stayed at shelters together on Thursday and Friday nights and enjoyed getting to know each other.  He have me the url for your blog so I could follow his progress as he works his way North to Maine.  He was strong and in good spirits as he got ready to tackle the Smokey's.  I told him I'd have a cup of coffee for him at Waffle House on our drive back to Atlanta from Fontana Dam.

"  Great news, and so good to hear that he's connecting with people and keeping a good pace, and getting messages back to those of us who a waiting to hear!  Thanks, Kevin, for contacting me! (Picture courtesy of the Great Smokey Mountains National Park website, Fontana Lake)
April 29, 2017 

Didn't hear from Ron today, although if he kept to his plan, he would have started into the Great Smoky Mountain National Park.  He has a pass that allows him to take eight days to get through.  Fontana Dam – the beginning point – is at mile marker 166.0, and Davenport Gap (the uppermost exit) is mile marker 237.6.  So he has 8 days to walk 71.6 miles, which would average 8.95 miles per day.  Completely doable!  Can't wait to see where he is and how he's doing.



April 28, 2017  Early post today.  Got a text message from Ron at 8:09am:  "Happy Friday!  Stopped for a water break, saw I had cell service.  Fontana Dam by this afternoon.  Then on to the Smokies." It looks like a beautiful morning there.  Enjoy your day, everyone!

April 27, 2017  Nothing from Ron today.  Probably stuck in the woods!  Hoping he's making good progress and in great spirits…

April 26, 2017  Didn't hear from Ron today.  It will be at best random contact. I forgot to mention that Monday night he met up with some hikers, and they camped in the same shelter.  He started out before them Tuesday morning, and when he stopped at the NOC they still hadn't caught up.  I think he was excited that his 'slow and steady' was faster than they were!

April 25, 2017  I was surprised to get a call from Ron today in early afternoon. He sounded chipper and happy to be on the trail.  He had stopped at Nantahala Outdoor Center (NOC) to get his pass printed for his journey into the Great Smoky Mountains National Park.  Is was a busy little 'burg' with lots of noise and people around, but he did have enough cell service to call.  The plan was to push on to Sassafras Gap Shelter – mile marker 143.7 – before he took a break for the day.  If he made it there today, he only has 2,046.1 miles to the end of the trail!

April 24, 2017  As of this morning, Ron is back on the trail. 

I didn't hear from him directly today, but his host family – who drove him back to Burningtown Gap when he stepped off on April 2nd – posted this photo on facebook and tagged me. 

He said before he left that he wasn't going to get a hair cut or shave until he came home.  I can already tell that he's a bit more 'scruffy' – our own personal mountain man!  Thanks for your prayers and support; by all means, keep it up!  It's a long way to Maine!



April 23, 2017  Departure time:  7am tomorrow morning!

Ron will be up and ready for the hour's drive back to the AT tomorrow morning by 7am.  As soon as Kim gets her son on the bus she will drive Ron back to where he left the trail, which is specifically Burningtown Gap.  The first shelter is only a few miles, so he plans to push through to reach the second one, which is about 8 miles out.  Sort of aggressive for the first day back, but completely doable.  From this point on communication will once again be spotty and infrequent, but I will post when I hear anything at all.
The two pictures I had added are ones Ron sent on Friday.  They are pictures of the solar garden angel that was a gift to Kim and Herb as a thank you for their hospitality.  I guess the added benefit is that the changing colors keep the deer out of the flower beds.  Who knew? 🙂 

April 22, 2017  Success!  Today's hike on an old logging trail – with about half his gear in his backpack – was a success. No pain, no issues.  The day stayed clear enough for him to hike out and about, and he was safe inside before the thunder and lightening hit.  If he had actually been on the trail, he'd have been tucked into his tiny tent during that!  But his hike took him through a part of the woods that actually had bamboo growing. Bamboo in Georgia?  Yep!

Also, this is a tree-like bush called a burning azalea.  They grow in the woods there, though some folks have them in their yards.  This one was along a road by a Baptist church.  Spring in the mountains!  All is well and still on track for picking up the trail again on Monday.

April 21, 2017   Despite the two and a half hour drive (each way!) to the chiropractor,

the time was well spent.  Ron was very impressed with the doctor, who asked numerous questions and gathered as much information as possible before even attempting treatment.  Apparently, although the pain is in the knees, the PROBLEM isn't with the knees.  It's a strain on the lower back and leg muscles.  As mentioned before, Ron was shown several exercises that are meant to stretch his muscles and strengthen his back and legs to relieve some pressure.  Ron has faithfully been doing the exercises and has felt the difference. 
This doctor is very respected in his field, and has treated professional and college sports personalities.  He has also spent time in extensive training with Olympic athletes. There are pictures and photos all around his office of appreciative athletes that the doctor has helped and made a difference in their lives.  As Ron described his experience in the office with this physician, I realized that this was one of the few times I have ever heard Ron be actually excited about something!  If he made that much of an impression on our quiet 'Slow and Steady' hiker, that speaks volumes!  Good news:  Early Monday morning Ron plans to be back on the trail!

April 20, 2017 

Today found Ron doing his prescribed exercises and running errands with his host family.  They were doing lifting and lugging and hauling and all of that was not a problem with his knees, which have felt fine.  He's going to try walking with a full pack tomorrow and then make a decision tomorrow or Saturday as to what to do.  But he is super anxious to get back to the trail, and truly wants to get out there and hike, and will not give up if he can possibly move forward. 
I told him I had just finished reading A WALK IN THE WOODS, which I found very informative, entertaining, and even a little frightening. Also told him I wasn't sure about him walking the 100 acre-woods.  I mean, the 100 mile wilderness in Maine at the very end.  Read about it:  it's very wild and extremely difficult!  But of course that's a long way off – almost 2100 miles off!- so we'll take one day at a time, and hopefully after tomorrow it will be back on the AT!



April 19, 2017  At 7:50 tonight I got a text message from Ron that I wasn't sure I understood – but basically it said he wouldn't call me tonight but would text later.  I fell asleep on the couch waiting for this txt message which just came through.  One sentence:  He got some exercises to strengthen legs and knees and may be back on the trail this weekend.  So now you know as much as I do.  Will post after phone call tomorrow night.  Thanks for support and patience….

April 18, 2017    Although it was sunny and warm in PA, it rained all day in Georgia.  Today was errand day since it wasn't good weather to be out.  Ron spent most of the time reorganizing his pack, deciding if there were other things he didn't need and could send home.  His appointment is tomorrow at 4pm, so it's unlikely he will be back on the trail tomorrow.  He is hopeful for good news all around, and I will post information as soon as I have it!

April 17, 2017    

Ron did some local trail walking today and was rewarded with no pain.  It was limited distance and pretty level but it was a great start.  He's still keeping his appointment for Wednesday and hopefully will be on the road again afterwards!
April 16, 2017   Well, the end of another beautiful Easter day. While I was enjoying the day here in Pennsylvania with my family, Ron was having ham biscuits for breakfast and driving all over the countryside while his host ran an errand.  And while we were alternately dodging rain and wind and sunshine, they had no rain to speak of.  When they were done with their drive, they came home to eat pizza and chill out for the rest of the evening.  He's really itching to get back on the trail, and if he continues to improve it will be later in the week.  More news tomorrow.

April 15, 2017 ( A little late)   

When I talked to Ron, he was feeling pleased that he had spent a good part of the day walking through a huge flea market complex, one that wasn't paved – so the walking was on natural turf.  He didn't have any issues at all with his knees during his walk, and also none in the evening afterwards. 
As to his plans to celebrate Easter, just running errands with his host family and maybe taking a hike in the wooded area behind the house.  He is missing all of us, but extremely thankful for our faithful support and prayers on his behalf.  Wishing everyone a joyous Easter celebration – He is Risen Indeed!

April 14, 2017    Today was a quiet day at 'home' for our off-the-trail hiker. Both Kim and Herb had to work, so he was home with the cat and dog.  I didn't hear much about the dog, but the 'haughty' cat decided Ron was better than no one, and sided up to him on the living room couch.  It was sunny and warm enough for him to sit outside on the deck for a while, where he caught up with his journal entries.  The weather turned cloudy and cooler after a bit, so he went in and re-evaluated his backpack.  Some things will get mailed home; others mailed ahead to his next stop.  His knees were doing very well – so tomorrow he's going to try taking a short walk in the woods to see if the terrain affects them in any way.  Just a few more days until his appointment, then the plan is to hit the trail!  He's very hopeful!

 



April 13, 2017    

I really felt like today was FRIDAY the 13th –  but it was Thursday.  Ron was excited about the fact that he noticed great improvement in his knees and legs, even to the point of going up and down stairs with comfort and ease.  He's hopeful that – if this keeps up – he will be back on the trail next week after his appointment.  It's good to have that hope to cling to!  The photo attached is the Georgia sunrise in the mountains by the house where he is staying.  Spring sunshine warms the soul!



April 12, 2017     Update:  For the second day in a row Ron has noticed much improvement in his knees.  His host family suggested an appointment with a local chiropractor, which is scheduled for next week, after Easter.  They are hoping that makes a huge difference, as she is known to be successful healing this type of strain.  All else is well!

April 11, 2017   

Late night – Ron woke up this morning very discouraged about missing the trail – feeling left behind!  But his knees felt really good all day, and didn't start even aching until 8:30 or better.  I reminded him that if he had been on the trail, he'd be down for the night by then!  So He's feeling encouraged and hopeful and really wanting to get back to walking!  He got his Easter package today and that helped add a few smiles.  Started counting his blessings and was soon happy and determined to take it 'slow and steady'!!!



April 10, 2017   

My apologies for not posting last night.  I spent late afternoon/evening working in my gardens; Ron called really late for some reason and when we hung up, I fell asleep on the couch!  But there was nothing new to report from yesterday.  Today he said he isn't noticing any improvement on his knees and can't really get in more than a mile until they are aching.  He's going to try heat pressure tomorrow to see if that helps. 
Right before we hung up tonight, I mentioned the full moon, and how it had been bright orange earlier.  He couldn't even see it at 10pm!  They are really tucked away in the woods if you can't see the full moon.  So he was going in search of the moon.  It is totally beautiful tonight.  There was a jet stream right through the middle, like a plane had started at the horizon and just went through one side and came out the other!  My calendar says the full moon is tomorrow, but it was big and bright and round tonight. 



April 8, 2017   

(Second post) – When I talked to Ron, he still had a scratchy voice from allergies but was feeling fine.  His knees help up well until evening.  The other two hikers that were staying with Kim and Herb were ready to go back to the trail, so Ron rode along when they took a road trip and deposited the two hikers back where they had left off.  It had been a sunny day and the evening was balmy.  No other news!



April 8, 2017    

I'm posting early today – to share the pictures that Ron sent last night.  I'll include his comments that were attached to the photos.

First photo is the 100 mile marker on the AT. "In NC. There are stones at the tree's base that form the number 100 — the 100 mile AT marker." 
Second photo is a tree that I personally think looks like something out of a fantasy movie – a dragon or something! "Just across the GA state line in NC.  One of the most photographed trees and places on the AT."
Photo three is my favorite – what a view! "Part of the view from Wayah Bald Mountain, NC." 
Photos four and five:  "Stone tower at the top of Wayah Bald Mountain.  The tower's wooden roof was destroyed in last year's wildfire."  (Last photo) "Notice the trail blaze on the corner of the building.  The dark marks on the walls are from the wildfire."  (The 'trail blaze' is the white paint swatch.)

Thanks for checking in and for following the adventure!



April 7, 2017     

Ron did a little walking around the town today, and had less issues with his knees – and the pain cleared up quickly.  He feels there is progress being made, and is really anxious to get back on the trail.  Sent me some pictures today that I will post tomorrow when I have more time.  It's tough handling responsibilities back home from over a thousand miles away!  But each day brings a new experience and chances to explore – – even if it's learning patience and feeling humble!  Catch the photos tomorrow….



April 6, 2017    

Late call from Ron – had a long but pleasant day on his trip to Atlanta.  Being able to experience these things – even though it is totally off the original plan! – are little blessings in disguise.  Meeting people, seeing sights, new friends…  all things to be thankful for.  His knees were still aching tonight, but tomorrow should be a low-key day and he's hoping to notice an improvement.  Thanks for your continued thoughts and prayers!



April 5, 2017    

Quick call tonight, as Ron has an early morning wake-up.  He plans to go to Atlanta with his host and hostess and they have to leave really early in the morning.  He's been able to handle a few things while he's off the trail,  via phone, that need addressed from back home.  His knees seem to be improving slowly and slightly but he still has 6 days rest ahead – as per doctor's orders.  Hopefully by then he'll be ready to hike, as he's very anxious to get back on the trail.  In the meantime, he's soaking in the sights and sounds around him and enjoying where he's been temporarily planted!
April 4, 2017   

Ron spent the day in transition from Franklin to his friend's place in Georgia.  The plan is to rest and heal, and then he will return to his hike.  He attended the Hikers Breakfast again, and met up with some friends he had made the first few days in Springer Mountain.  Kim and Herb have offered him warm hospitality, and are making it possible for Ron to mostly stay off his feet. 
Before they left Franklin this morning, he found a little book store and picked up a few books to read while he's off his feet.  He has his meds, leg braces, extra pillows for elevating his feet and legs, and a place to charge his cell phone every night.  Things are good!
On another note, though, he just got word that his brother (who lives in Florida) had surgery for a hip injury and will be laid up for a while.  It seems that the Shafer brothers are having issues with mobility for a little bit!  Prayers are being lifted for both Ron and Dennis.  Ron is still in good spirits, and is enjoying the experience even though it did take a short detour.  I'll keep you updated!

April 3, 2017    

Here is the Monday night Ron update.  He did end up getting to the Urgent Care, and as suspected, has a type of tendonitis.  Not anything I can remember the name of, but it is knee-related.  He was prescribed medication for the inflammation and was instructed to stay off the trail for a week.  Also got a knee brace.  The upside of that was he was safe and sound in his little Budget Inn when the horrific storms swept through Georgia and North Carolina.  They were almost tornado-type storms with hard rain and strong winds.  But our hiker was safe and dry. So he totally dodged that bullet.  
His attitude about being off the trail for a week is surprisingly laid-back.  He's ready to do what it takes to heal completely, and all of his encouragers/mentors assure him that he'll have plenty of time to get to Maine once he's again on the trail.  This morning they went to the local Baptist Church, which hosts hikers breakfasts every morning.  He even tried Pumpkin butter, which he declared 'very tasty'. The plan is to go again in the morning!
Once he got the diagnosis and instructions from Urgent Care, he sent messages to those who were following his progress.  The people he stayed with in Georgia when he first arrived with B-Man insisted on coming to his rescue, and he will stay with Kim's family until he is ready to be re-planted in the exact spot that he left the trail yesterday.  Turns out it's only an hour from where he is to their home, even though he's walked 125 trail miles!

 
Sounds like he's in good hands, surrounded by caring people, protected with a hedge of prayer and love from all of us here at home.  I'll do updates as I get them, but please know how much he appreciates each of you!
  April 2, 2017      

I was very surprised to hear from Ron tonight at the late (for trail life) hour of 9:15pm.  He's currently in a Budget Inn in Franklin NC – he took a shuttle out this morning with a few other hikers to take a 'vacation' from the trail.  His knees have really been a problem, as so many people have experienced and is not at all uncommon among hikers.  He left the trail at mile marker 124.1 – Burningtown Gap – and plans to get to an Urgent Care tomorrow.  Usually a day or two off the trail and maybe knee braces or supports will do the trick. 
He's met several people from the Pittsburgh area, and it's always great to spend time taking with people from home.  Two of the hikers that took the shuttle with him told about their experiences – one has hiked the A.T. before, and even the PCT (Pacific Coast Trail).  One of the two was having issues with his ankle.  Again, not uncommon on the trail.
His spring allergies have kicked in, bringing a dry throat and slight cough, but no illness and it's very tolerable.  Part of the plan is to also pick up some cough drops or hard fruit candy, both of which are great for keeping the throat moist.  He's still in good spirits and really anxious to get back on the trail.  As to the article in the paper yesterday, Ron seems to remember meeting these to 'Dirty Girls' at REI sometime last year. 
While he's off the AT for a day or so, he will make some phone calls and take care of 'life as usual' for Melvin Drive, a must-do when you're away from home for a bit.  I'll post an update tomorrow once I hear from him.  Keep praying, and thanks for being such a great group of supporters.  We both appreciate all of you!



April 1, 2017    

I got home this evening after a nice visit with my parents.  Had a quick text from Ron – all is well there – but no phone call this evening.  Hoping to hear from him tomorrow.  In the meantime, check out the article in the Tribune Review (www.triblive.com) about two 'Dirty Girls' who are walking the Pennsylvania portion of the A.T.  (Thanks, Ruth, for putting me in touch with that!) It's a great article!



March 31, 2017  

Yesterday I mentioned that I wouldn't have anything to post today – which is true in the fact that I won't hear from Ron.  However, he did say yesterday that one of the reasons for sitting out at least part of today was to keep dry, as they were predicting a storm to come through.  So I'm hoping he stayed dry and safe and is rested to keep going – lots of miles to go!



 March 30, 2017  
I was busy delivering mail at work and missed the first call from Ron this morning.  The message didn't show up on my phone for two hours!  Then I was bummed all afternoon..  But he did leave a message, saying that he was at Siler Bald Shelter and had service on his phone.  The shelter is a mile marker 113.2.
Thankfully, he was able to call me back about 6:30pm.  He had done a light day on the trail to give his knees a rest.  Apparently going down hill is harder on the knees that going up hill.  He may also take tomorrow as a zero mile hike day and catch up with some things.  He is totally happy with the trip, other than the issue with his knees.  He's trying to be sensible and take it light for the next few days, and possibly stop at a drug store (three tree stumps and a pine tree to the left.  Ha Ha.) and pick up a knee brace and maybe some icy hot.
I remembered to ask him about his trail name, and he picked 'Slow and Steady'.  Seems like everyone just zips past him in a hurry, but often he catches up to them at a camp site.  So he's convinced that it's be best for him to take things slow and steady.  Thus, the trail name! 
I will be out of town tomorrow night, so I won't post at all tomorrow.  Look for something on Saturday or Sunday evening.
Oh, and I got the first of fourteen postcards today. It's taken from Woody Gap Shelter.  The plan is to have one from every state.  I have Georgia hanging on the wall.  This will be one set of postcards for my collection that will be extra special!
March 29, 2017     

No call or txt tonight.  But I was just thinking.  Every thru-hiker has to register for the hike with a trail name.  I don't think Ron mentioned what he chose.  We talked about 'Backpack Man' because that's what the neighborhood nick-named him.  When he calls, I will ask him if that's what he picked!  As for now, just have to wait it out.  Sigh…..
March 28, 2017  

I had just finished work and buzzed into Wal-Mart to get a few essentials; you know, 2 bananas, black satin spray paint, AAA Batteries, Shampoo….  Anyway, about 6:30 I received a group text message celebrating the fact that he had cell service. (Exact quote: "yay!")  He is out of Georgia now (one state down, 13 more to go!!!) in Carter Gap NC.  His legs were feeling sore but he was having fun.

 
Then , in a private message to me (sorry guys…) he said he was exhausted (aching legs) and was going to bed.  Hopefully he will still have cell service tomorrow evening and I can get a call with more details.  In the meantime, sweet dreams, everyone!  If you have an interest, google Appalachian Trail in North Carolina, and find the site about Atlanta trails.  The vistas are magnificent.  What a blessing to see all of that, and it's ahead on the trail…



March 27, 2017    ** Disclaimer:  No, he's not seriously moving…..

March 26, 2017  I need to write this all out before I forget anything.  Ron and I talked for an hour, and it was wonderful not to have a scratchy connection or worry about his cell charge.  He is at a motel in Hiawassee GA, mile marker 69.3.  It rained a little bit earlier but is clear now – hoping for no rain in the morning. ("Rainbow in Hiawassee, GA.  On both sides of, and behind, the mountain.  So cool.")

They have been walking 9 to 14 miles a day, depending on the terrain and the weather.  Often he's so tired at night he doesn't feel like cooking or eating but he knows he has to.  So far his favorite things seem to be the mashed potato pouches, pre-cooked chicken pouches, and Ramon noodles.  And trail mix (of course!).  Oatmeal and pop tarts for breakfast.
They have come almost 80 miles since last Sunday, starting at Amicalola Falls, then the Appalachian Trail at Springer Mountain access.  He's sending some things back that he hasn't used, making more room for food. 

("Amicalola Falls and some of the 604 steps to the top.")
I asked him what the worst part of hiking is, and he said it was getting up in the morning.  That would be ME!!  Crawling out of that warm sleeping bag and having to cook breakfast and pack up the backpack, then start out uphill.  He said he doesn't think there's such a thing as downhill in Georgia.  So the old saying, 'up hill both ways' might actually be true!
The best part, though, is just being there!  He loves walking every day, being on the trail, the beautiful vistas, the overlooks, the majestic sights – so many wonderful sights and knowing that God created all of that.  He actually prefers hiking alone, but there's always someone  on the trail close by, and they seem to all catch up at night and stay at the same camp site.

("One of the shelters along the trail.  Comfy, but the mice like them, too.  I prefer sleeping in my tent.")

  He loves hearing the birds and the sounds of nature; he has been looking for wildlife, but has generally just seen squirrels and woodpeckers – heard a few grouse (is that spelled correctly???).  Thought he saw signs of a bear clawing at a dead stump looking for grubs, but couldn't be sure. 
I told him when he got home he'd probably stick a for sale sign in the yard and move to some remote cabin – he agreed that a tiny house in the woods would be perfect.  Who knows what changes this trip with inspire!
March 25, 2017   

After 2 hours of shoveling gravel and dirt out of my yard, I put the tools away and took a quick walk through the 'hood to limber up.  I was about half way around when Ron called.  He is at a place called –  I think he said Cold Springs Gap.  It's near Hiawassee.  Their goal is to buzz into a town tomorrow and restock food, do laundry, get showers, recharge phones… Just take a break.  He's doing well, but tired.  He sounded perky, actually, and happy.



We didn't talk long since he'll be able to talk tomorrow from wherever they stay and can charge both his battery and the cell phone's battery!  He did mention, however, that there is a LOT of Trail Magic, almost every little cross path.  So Katy, when you read this, Ron will get in touch with you tomorrow sometime to work out some strategy for your part in this project.  Don't despair! 
 He did say going UP Blood Mountain was much easier than going DOWN the other side, and the people hiking north to south will get the worst of it with the intense climb. In the meantime, I am content to know all is well and he's handling things ok. So I'll post after I talk to him tomorrow!
March 24, 2017   No word from Ron today.  I will post as soon as I hear anything at all!  🙂

March 23, 2017   

No contact tonight with the hikers.  I'm not surprised, because even if they only made it part way up Blood Mountain, I can't imagine they have cell service or any power in their phone batteries.



But since we have an off night, I'll take this opportunity to let you know that we'll be having a contest coming up – the person coming the closest to where Ron is on his birthday will win a custom-made tee-shirt from PLC Designs.  Details to follow within the next week or so.  Keep track of their progress.  (Check out PLC Designs on facebook and like their page!!!)
March 22, 2017    

I was walking around Big Lots looking at patio furniture when the Happy Wanderer called.  I sat myself down on a wicker love seat and just enjoyed the conversation.  He sounded so much perkier and content, and much less tired.  They had a very good day.
I told him to be sure and enjoy the experience, as there was no use doing it if he wasn't having fun.  He said he definitely enjoying it, even last night's storm, including the thunder, lightening, hail and rain.  Only one little drip in the back corner of the tent; otherwise he was dry and warm and totally safe through the whole thing, and got a good night's sleep.
This morning somewhere along the trail someone had a generator, and he was able to get a good charge to his phone.  I don't know for sure how far they had walked when they came to a little crossroads/path: if you went right, there was a 'town' of a dozen buildings, and if you went left, there was a hostel.  He had determined to just call it a day; go into the town for food and refuel and stay all night in the hostel.  When they walked into the parking lot, there was a big van with a man handing out hot soup, hot tea/coffee, granola bars, apples — He termed it an incredible thing!  So these trail angels really are angels, and there are no disguises about them!  He felt so recharged that he went another 6 or 7 miles.
They are stopped for the night at a little campsite called Woodhole.  Looking out across the path they can see Blood Mountain, the tallest mountain in Georgia at over 4,400 feet, and the highest peak on the AT, according to the guidebook. (Photo credit on website.) It looked very intimidating!  He is hoping it's all down hill from there, but I have a feeling there will be a few more 'inclines' before he reaches Maine! But he does hope to stop in a little town and catch a motel with internet and some common comforts within the next day or two.
All in all, he sounded good, was ready for the challenge, and happy to be on the trail.  He sends greetings to all of you faithful followers and supporters, and is grateful for your prayers and encouragement.
March 21, 2017    

Got a call from Ron about 6:30pm.  He was going to stop for the night.  There was a shelter a few miles back that they considered stopping at, but opted to push forward.  They were calling for a thunder storm – he could hear the rumble of thunder and see lightening in the distance.



He stopped at Gooch Gap – not to be confused with Gooch Shelter – and was ready for dinner, then sleep.  He found out the hard way (?) that he needed to eat and drink more on the trail, and today was a much better day in that regard.  His cell phone is very low on batteries and he may not be able to contact anyone for a day or two.  Again, he is asking that we avoid texting!  It pulls too much power from the phone battery, and he feels obligated to text back (so no one worries!).  Just check here and I will post when I hear ANYTHING!
I went online and found a photo of Gooch Gap, even though this is more a summer photo than spring.  Just a taste of what is ahead on the trail!
March 20, 2017    A quick text at about 6:30pm from Ron – but apparently not enough signal to call.  Will just wait for more info tomorrow or Wednesday!

March 19,2017 
Talked to Ron about 8:30.  He sounded tired but happy.  He stopped at a camp spot on the trail – first official day out!  He had just finished supper and was heading for bed.  The only comment that he really made was that after wearing his hiking hat all day he had a bad case of hat-head!  It was cooler than he expected and he was looking forward to getting cozy.  More to come!!!
March 18, 2017  

It rained last night, and was very windy.  Despite the weather, our campers stayed dry and safe – nothing blew away!  The tents got dried out during the day, and the campsite is back up and running.  EDT is 8am tomorrow morning – they will jump on the trail at the very bottom and begin the long, 2000-plus mile hike north.  Hazard yet Forward!  (Seton Hill College motto – we are both alum from there!!!)
March 17, 2017

–  Happy St. Patrick's Day!  Our hikers celebrated with a party on the trail, or actually just off the trail.  They set up their tents on a 'step' partway up the mountain, then had a huge trail party.  It was actually in honor of the 'trail angels', those people who distribute items to the hikers that pass, and help the ones that need help.  This was the 15th anniversary of the first hiker helped by a trail angel, so there was a cake added to the celebration of hotdogs, drinks, and all around fun.
According to Ron, it was bright and sunny with blue skies all day, probably in the 50's.  Although when I talked to him at 10pm, it was now into the 30's and he was tucked into his insulated 'everything', including his sleeping bag, and snug as a bug in a rug.  HOWEVER, a little bug had decided to co-inhabit, which Ron immediately took care of, so he is currently not sharing his accommodations with anyone or anything – that he knows of.  "Home Sweet Home" for the next six months!  The tents are just feet from the AT, and and tomorrow they will go back down to the lodge and head out from there, at the very beginning of the very start.  Happy trails, hikers!  God bless….
March 16, 2017

 

  Just got a few txt messages from Ron.  It's official, as I am now

completely

jealous.  I cannot imagine a 6 month vacation, exploring new things and meeting great people and seeing the sights.  Here is a quote from his txt: "It was a warm day in GA. Blue skies and sunshine. We go on the trail on Sunday. Went to a national park that had a suspension bridge. Thought of you and wished you were with me. Pictures attached. Blog issues tonight, will try to send something tomorrow. P.S. We took a trip to Blairsville, GA today. Here's the museum they have on the town square. I've only seen 1 deer since I left PA."

March 15, 2017   The day started out for our travelers in the  Tennessee mountains – fog and snow. According to Ron, those mountains far surpassed our Pennsylvania mountain ranges.  "Amazing is an understatement!"  The photos did not capture the grandeur – snow and fog.  But as the day wore on, and they made it through Tennessee, the weather cleared up and the terrain leveled off some.
They are staying in a hostel tonight, about 16 of them.  There is no 'nearest town', as they are in the middle of nowhere.  But on the map you would look up Blairsville. The plan was to start up the mountain tomorrow, but people are coming in off the trail because it's too cold and the wind is wicked.  So possibly it will be better to start on Friday.  We will see what Thursday brings.  I'd say he was a happy camper, but he's not camping just yet!
March 14, 2017

  10pm –

I just talked with Ron – he is having a great trip, and with the help of B-Man getting his gear organized.  They are spending the night in North Carolina, and will be in Georgia tomorrow.  He plans to be on the trail later tomorrow or maybe Thursday.  He is meeting up with a young lady from Pittsburgh (Chelsea — No, of COURSE I'm not jealous!!!) and possibly a few others and will head north once they are all connected.  He is excited and totally ready for this great adventure.  Thanks for your continued prayers and support.
As I mentioned on facebook, please don't post on his page or tag him on facebook, or email him.  It snaggs his phone and drains the power.  You can try to text him, but cell service is almost non-existent so don't be surprised if you don't hear much from him.  I'll keep posting here as I get news. Feel free to get in touch with me if you have questions.  Thanks!
March 14, 2017

  -About 2pm this afternoon I got a text message from the Happy Wanderer.  They had not had cell service since Sunday noon.  They were 2 hours from North Carolina and all was fine.  Waiting for the little (and big!) details as the days go by.  I will keep posting as I hear anything.
March 13, 2017

  This weekend was crazy-busy-chaotic!  We were down to the wire, and so many things only partly organized.  That is definitely not Ron's strong point.  But we worked together, ran errands, packed and repacked the demon backpack, and finally collapsed in exhaustion about 11pm.  Thankfully it was very cold outside and it kept me awake driving home at midnight
I got a text message from Ron Sunday at about 7:30 am, stating that he was leaving about 8:45am.  I threw my normal Sunday morning routine out the window and was there in record time.  I found him trying to put everything in the house in order, eat breakfast, finish packing, doing laundry, emptying garbage… Yikes!  I pointed him in the direction of his trip necessities and set him to finishing that one chore.



The backpack was definitely a bear, and it attacked us from every angle!  When B-Man showed up, he took one look at it and assured Ron that he would be trimming it down.  He asked if I was going to be monitoring the house, and when I assured him that several of us intended to do that, he promised to drop off the excess on his way back from vacation, after setting Ron on the trail.

While B-Man and his fiance Cool Joe (???) loaded the car, Ron took a minute to grab his glasses and hat and take a deep breath.  I couldn't tell if he was more excited than terrified, or the other way around.  But it was now or never, so here is was.  A few hugs good-bye, and they were ready to pull out.
What an adventure!  I hope to hear from him often enough to keep this 'blog' active.  It's not often we can follow through and make our dreams and plans come true.  So as he leaves behind those who love and support him, and leaves his house and car in the hands of Matt, Dustin, and I, off he goes!  I'm proud of you, Ron Shafer!  Go for it!
March 11, 2017
The day of departure is fast approaching.  Less than 24 hours!  The group driver, B-Man, said about dawn on Sunday!  That, combined with the time change, will be interesting.
It's been a whirlwind getting ready, trying to pack and remember everything, all the little details of the trip and task assignments for those holding down the fort.  Everyone wants one last chance to say good-bye to Ron, albeit lunch or dinner or just hanging out.  I'm hoping to be the last hug to send him happily on his adventure.
The interest in this project is amazing!  People who have never even met Ron are excited and passing along information, encouragement, and small 'items of convenience' that will surely enhance this trip.

My Smail Auto family has been captivated and supporting.  Mike thinks a reporter from the Trib should follow the story – I agree!  Ralph brought in his headlamp flashlight, complete with red and blue alert settings, so Ron would have both hands free to work or write.
Danielle offered advice on pepper spray, and what is effective on bears on the trail.  She even printed out an article on how to react to different bears – black, grizzly, etc. (I thought I should read it first, though.  I WORK with a lot of bears!!!) She also shared a cute story of a bear encounter.  Her brother is an avid outdoors person, and she passed on bits of information from him, including a contact number if he has questions. 
April offered going-away hugs, and her son's girlfriend shared stories of her high school friend's 5 ½ month trek up the AT.  Jen and Loni wished him well and everyone expressed interest in being kept in the info loop.  Katie (from his church) told him to wear bread bags over his socks inside his hiking boots – something I had also told him so I guess it's a reinforcement!
A big thanks to the Smail crew for their interest – we'll keep everyone posted!
March 8, 2017 
Today was Ron's last day – after a career of seven years – at Sears.  I know it was a bittersweet day, leaving behind a way of life and a lot of very close friends.  Hopefully those friends will join us on this page and keep up with his adventures.  He made the comment after his shift, that 'Elvis has left the building.  So have I.'  A little nostalgia, there.  BUT… it is NOT the end!  It is the beginning, and how exciting is that!  Departure is set for Sunday a.m. – time TBD.  It's the Daylight Savings Time change so losing an hour's sleep will make it tricky.
Yesterday afternoon was spent trying to pack the backpack –  HERE is what he hoped to get crammed into the pack:  Quite a table-full!
After some serious jamming and stuffing, here is what did NOT fit in the pack:  Not good!  
After close consideration, he came to the startling conclusion that he could either fit clothes or food into the remaining space in his backpack.  So he will either have to hike naked or starve.  As distasteful as being clothes-less is to my though processing, I think he should opt for the food.  After all, he could sew fig leaves together.  If Adam and Eve can get away with it, I think Ron can, too!
We'll give it a couple of days and see what updates we have –  I'll keep you posted!
March 6, 2017

   Well, only a few more days and he'll be headed to Springer Mountain.  The dining room table at his place is 'cluttered' with gear, all expected to fit in his very professional looking backpack.  Not sure how it's going to really happen! 
Saturday evening I visited there for a few hours.  There was a fire in the fireplace, and he had set up his two-person tent (Two people would REALLY squish in there!). I was in there by myself and it was none too spacious.  We went over this list (checked it twice???) and he really is almost ready to go. 
I have a full-sized map of all 2,187 miles on my office door, and will track the progress.  Postcards from every state (count them:  Fourteen!) will filter in and be added to the door display.  Hopefully a phone call now and then when his phone is charged and he has service.
So the countdown has begun!
March 2nd 2017

     Watch this site to share some adventures as Ron sets out from Springer Mountain GA and heads 2,187 miles – to Baxter State Park, ME!!  As he shares some of his experiences, I'll try to post them here. 
Starts mid-March!